Boat Licence in One Day!
With IceWater Marine you are on your way to obtaining your Boat Licence or PWC Licence, in just ONE DAY.
To achieve your NSW Recreational Boat licence, you must complete an NSW Maritime theory exam and a practical component.
Exam is in two parts, requiring 100% correct for part 1 and at least 80% correct for part two;
Practical component can be done with the trainer who conducted your theory exam, or via completing a logbook of (much more) time driving a boat with any licensed skipper.

With IceWater Marine's training, you can complete your EXAM and PRACTICAL in one day! Pay one fee for both the theory and practical elements.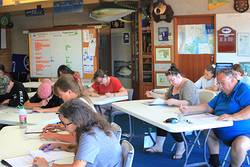 Theory & Test: IceWater Marine offer an intensive training course (usually 5 hours over a weekend) followed immediately by the NSW Martime exam. You pay only once, no matter how many times it takes you to pass the exam.
Practical: After you've completed the theory training and passed the test, do the practical straight away in the afternoon.
Our trainer will take you and several other course participants out on our registered training vessel Glacier Ice for about an hour and a half.
Every one gets plenty of experience at the wheel under the expert eye of a professional marine trainer. This session meets the requirements of the practical component for a NSW boat licence.
Note: practical sessions are subject to weather conditions. If it's a foul day, we'll need to set another date to complete the practical component.

Licence: Proceed to a NSW Service Centre the next business day with ID and your Application form and pay your licence fee.
At an IceWater Marine course, you won't just be memorising the rules, but interpreting them so that you won't forget. You won't be learning just for the exam; you'll learn a lot of marine skills to be competent and confident on the water.
Costs

Boat theory + practical - $345, young adult (12-15 years old) - $325
Boat theory + PWC + practical  - $405, young adult $385

IceWater Marine Training is approved by NSW Maritime to provide practical Boat Training and/or Knowledge testing for the general boat licence and PWC driving licence.